There's new history coming to Ellicott City. For the weekend of Nov 18/19 2023, an old building gets a new makeover. It's a temporary one with more coming in 2024, but it's a wonderful necessary start. In conjunction with the book signing event happening down the street from the log home on Main Street, this information is being presented as a start and teaser for what's ahead. The likely builder of the log home ("cabin" denotes temporary quarters, and this most certainly was not that for Levi, his wife Eliza Jane and their children) lived on a side street off of what is now called Main Street (that's another story). It's address was 38 Merryman Street when it finally got an address.

Here is a map made for just a few of the elements central to the life of a Mulatto man named Levi Gillis. Much more is coming in 2024 as research has been happening for the past few years to create content and programming. For now, try to imagine what it might have felt like for Levi, his wife and children as they traversed Ellicott's Mills in 1850-1860. Here they are on the 1850 census before they bought the land from Thomas Fisher and his wife in 1851. Fisher was a Black man with an interesting story of his own as conveyed in the book our nonprofit has published.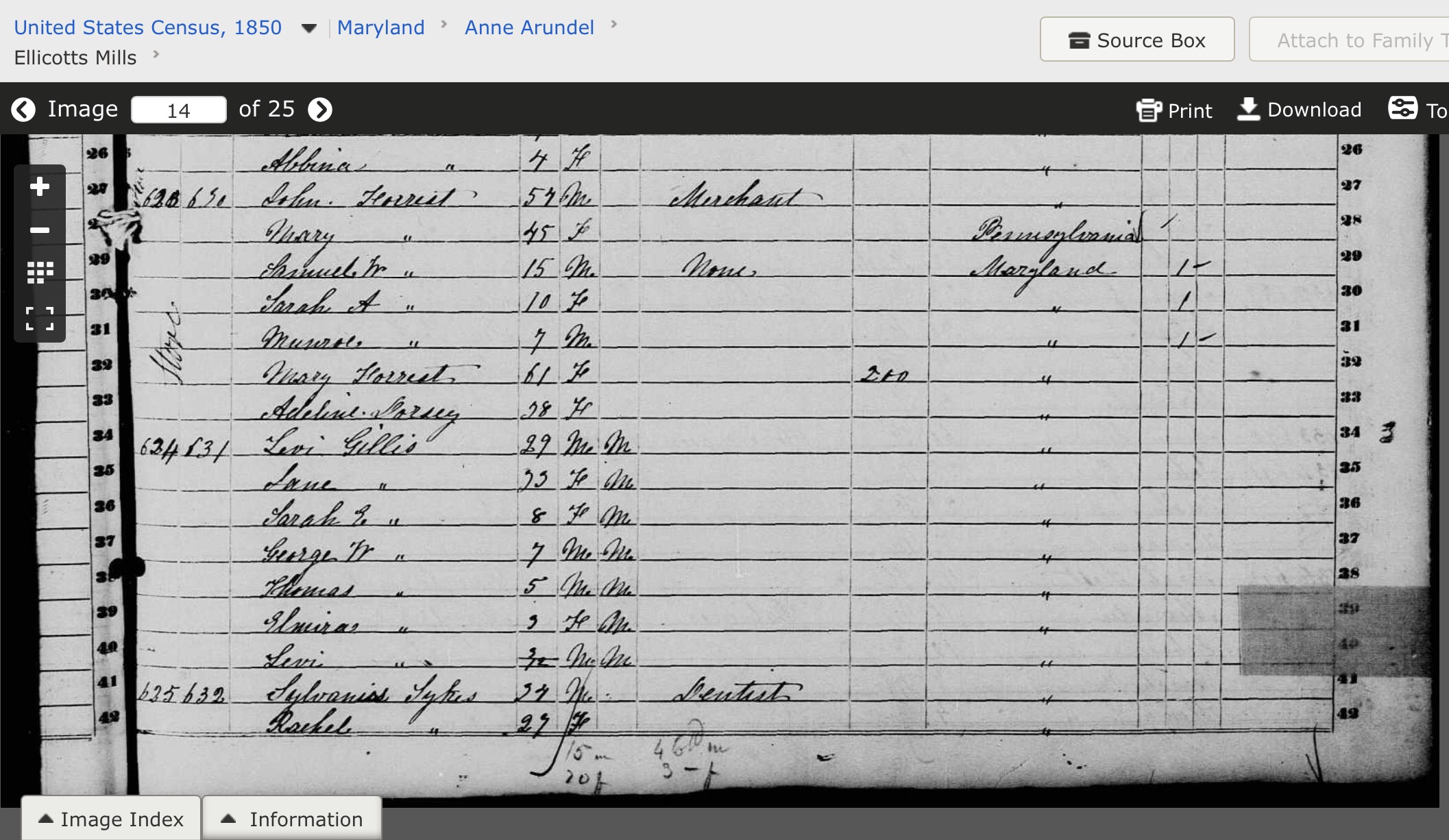 He buys the property a year later: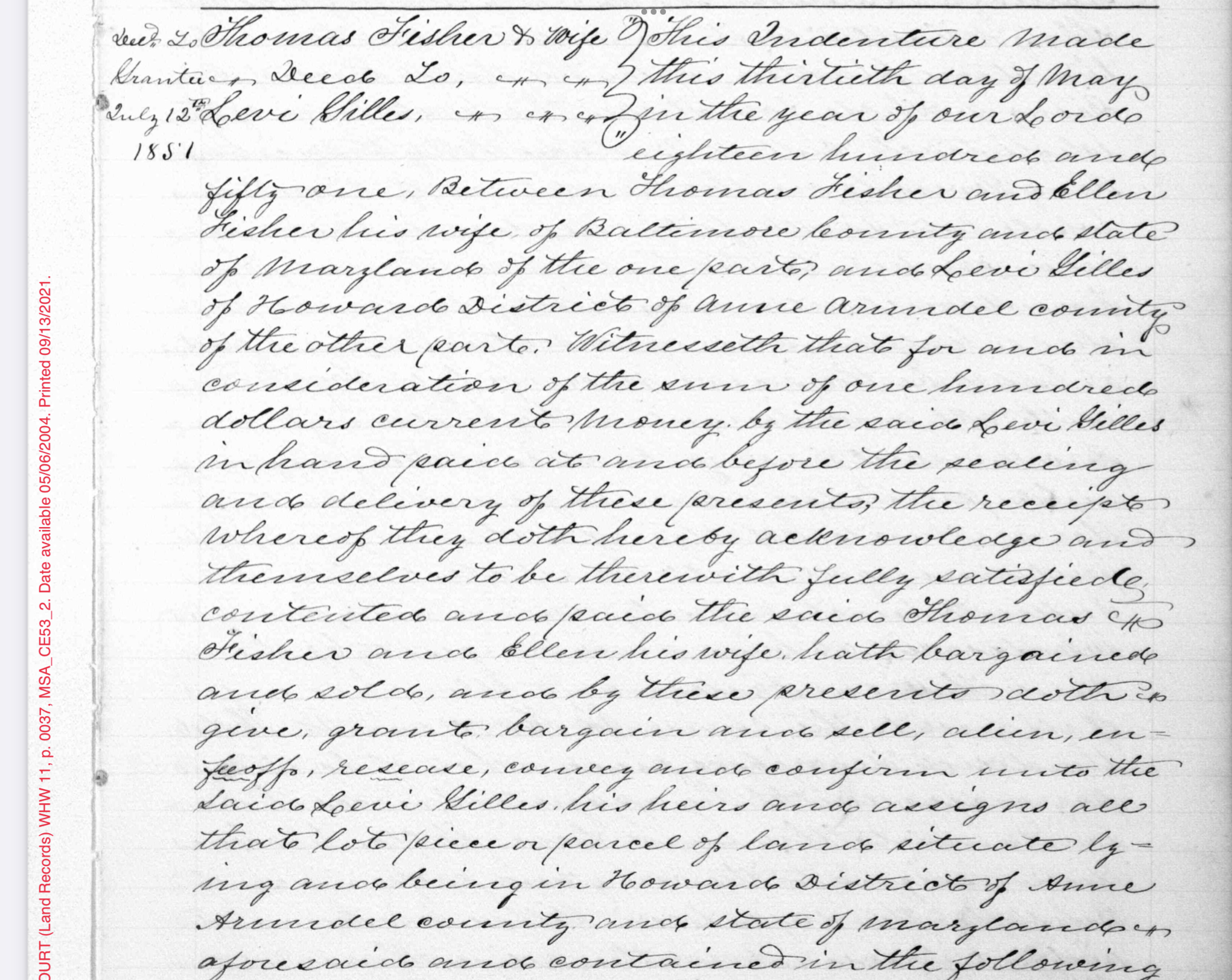 He and his wife sold it to Thomas Isaac in 1860:

Just a few of the things Levi and his wife would have been aware of while living there are marked on this map. If you go to where his home is now located, keep in mind that it was located somewhere else before being relocated in the 1980s as shown on this map. More info about this is visible to visitors of the log home, as provided by our nonprofit to Rec and Parks who manages the building. If you get a chance to go inside, imagine Levi and his family living there in the 1850s. Imagine Levi building it for them. Imagine them all living in Ellicott's Mills.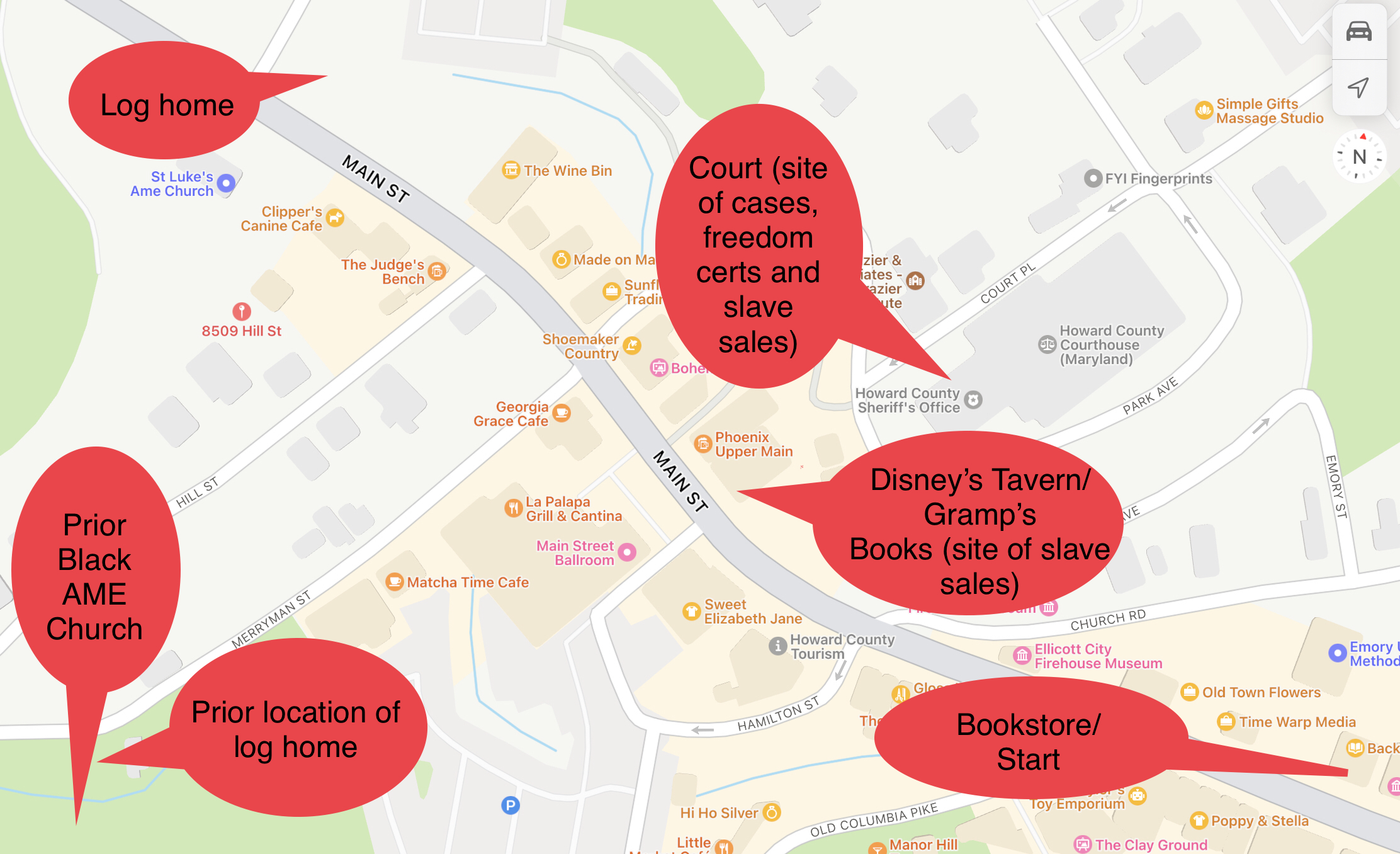 Our nonprofit will be showing much more to visitors, students and residents beginning in 2024. It took time to compile it. Please be respectful of peoples' property if you decide to walk down Merryman Street, it's a very small and short street and there is no parking there. Our nonprofit has explored various engaging ways to show what it used to look like when the log home and the church were located a stone's throw from each other. Stay tuned for more on that also.
*book will initially and exclusively be available at Backwater Books at 8156 Main Street in Ellicott City, by our choice, to support small business that also supported us. It will then be available for sale at other outlets being arranged throughout the county and in Barnes and Noble and possibly Amazon. Possibly.