I wasn't going to say anything, but now I need to. A blog post was made about the Oakdale Decorator Show, which I'll link to at the end of this post. It eludes to missing history and mentions our nonprofit, so it seemed wise to write a few things. I had a feeling something was coming.
HISTORY
Albert G. Warfield, was 21 years old when Oakdale was built. His father, Joshua Warfield, owned Cherry Grove (HO-1) and is thought to have been the one who built Oakdale in 1838 for Joshua. Let's examine the possibility that Albert built Oakdale, since that is what is written in the showcase program.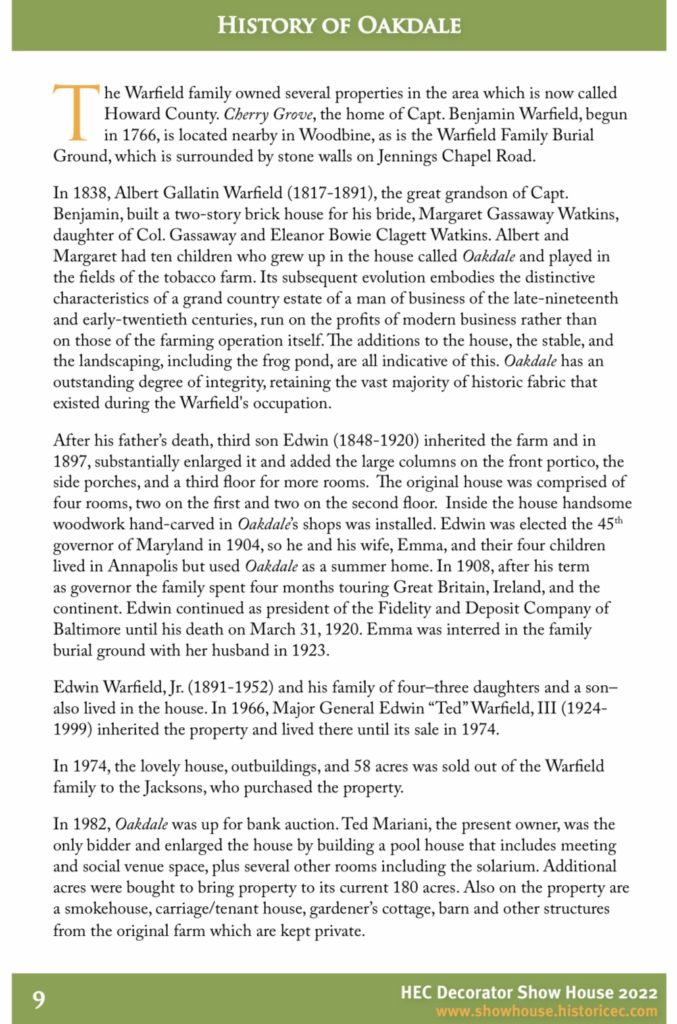 First, he didn't get married until 1842. In his father Joshua's will of 1846, Albert was bequeathed 10 people his father had been enslaving that were already noted to be in Albert's possession by then. I know this part of this family's history very well, and have the names of almost everyone that Joshua had been enslaving at that point. There are more than 50 names, and there isn't room to list them all here. Some of them:
His son Nicholas received 13 people, already in his possession.
His daughter Eveline (or Everline) received 11, already in her possession.
His son Albert received 10, already in his possession.
His daughter Kitty received 11, already in her possession.
His granddaughter Rachel Riggs was to receive Delilah's youngest daughter.
His grandson Joshua Riggs was to receive Fanny's youngest boy.
His granddaughter Everline Riggs was to receive Matilda's daughter.
His grandson Joshua Warfield was to receive Let's youngest son, Clagget. Clagget was 6 at the time, and I'll tell you later how that's known.
So, let's go with the story that Albert, 21 in 1838, was responsible for building Oakdale. With what resources and labor? I ask that question because I read a lot of emphasis being placed upon this belief about Oakdale: "It's subsequent evolution embodies the distinctive characteristics of a grand country estate of a man of business.. run on the profits of modern business rather than those of the farming.."
??? So, folks are skipping the ENTIRE slavery and plantation part then??? Not entirely unexpected in Howard County.
I asked a question last week of a fellow historian/presenter who I won't name here. I asked him if it's been his experience in the county that people do or do not know the county's history involving slavery. I already knew my answer, but was curious as to what his would be. He responded that most don't and are surprised when they do learn. We agree on that!
I received an anonymous email before the showcase began, and I'm including it here since it doesn't identify anyone except me. It's someone's opinion, and they are entitled to it.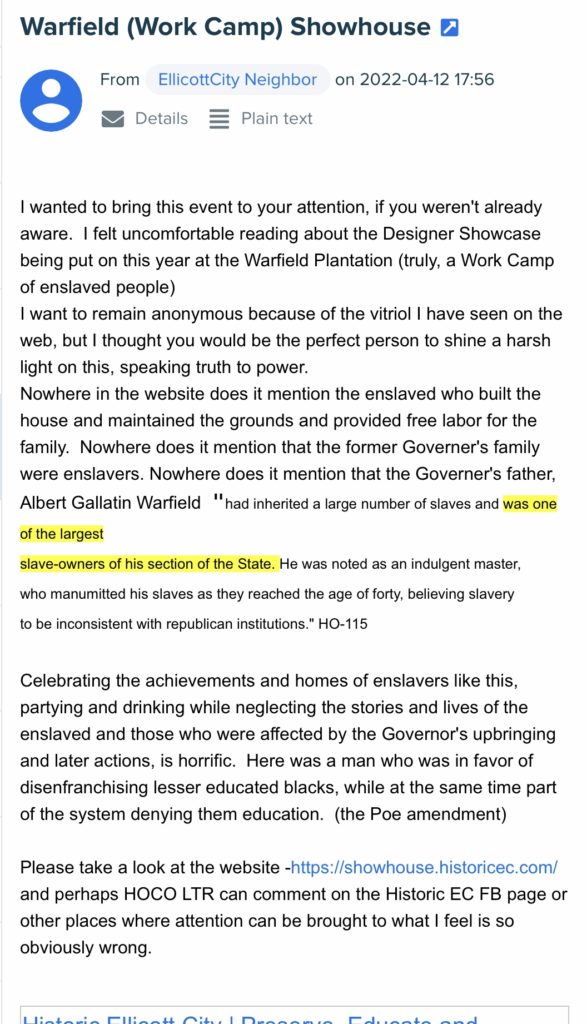 As a historian whose specialty is this time period in county history, I understood why I was being asked to say something about the event. A number of people also called me about it. My response was then and essentially remains "I respect the right of all county nonprofits to do as they wish to raise funds and in this case to help the owner of Gov. Warfield's plantation home to sell it. Every history nonprofit has their choices, and we only have ONE government/public history entity in the county: Recreation and Parks." I could see that scouts and students participated so far in this event, and while I wish that the focus was accurate inclusive history, I believe that to be a choice for all private nonprofits. One of the most recognizable history nonprofits, the Howard County Historical Society, Inc, contributed to the history writeup for the Ed Warfield History Room, mentioning the brick work and "master craftsman" of the 1838 structure. I'm glad that they did.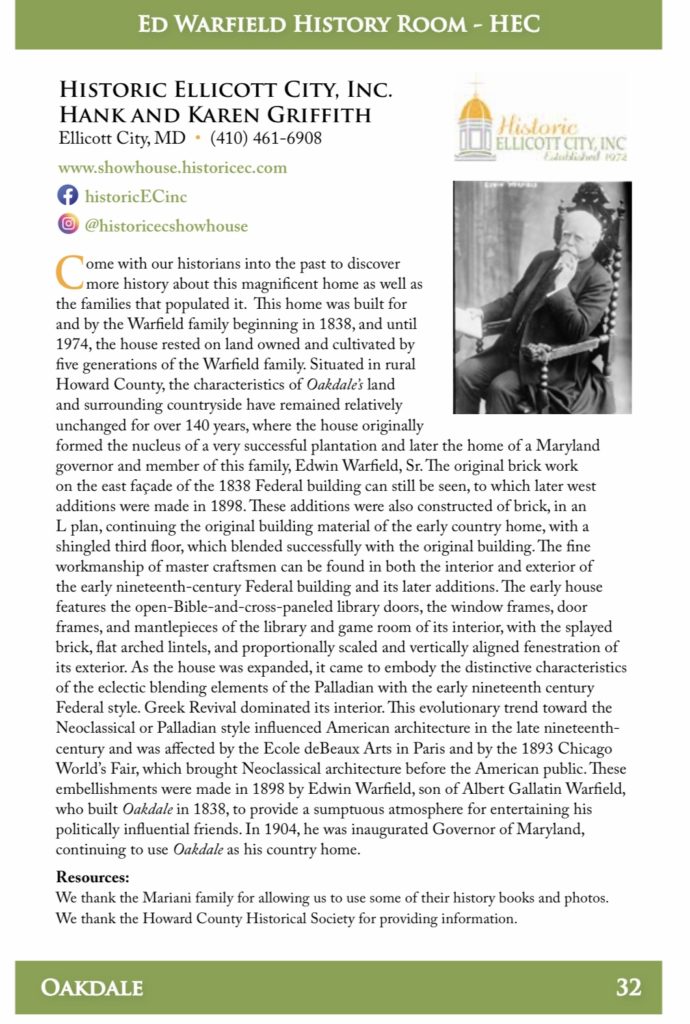 This history nonprofit (HCLTR) asks the question: Did Samuel or his dad assist in the building of Oakdale? How about Allen or his dad? Don't know who they are? Let me tell you, because someone should in order to give them their humanity as these stories do. Allen Bowie was reported to have been born around the year 1824. That would have made him around 14 years old when Oakdale was being built in 1838. Samuel Hall was born around the year 1826, making him 12 when Oakdale was being built. Depending upon if the 1838 date was the start or finish would help determine if Samuel and Allen would have themselves been part of the construction crew. I'm sure you saw nothing about either of them if you've already gone to the decorator show, but historians who examine primary source documents would know about them.
Many readers are probably scratching their heads thinking, "..but NO.. it's been said that Edwin's father was against slavery." Where does that come from? From the  decision to elevate the following words from his obituary (he died nearly 30 years after the Civil War in 1891):

Records show something different. "Slave for life" means just how it sounds with no ambiguity, and this information was placed on the 1867 list of county enslavers wishing to be financially compensated after slavery was abolished. If Albert had been intending to set anyone free at age 40, "life" wouldn't have been written in the "slave for" column. Eliza was already 46. Understand that some enslavers put their names on this list, and some didn't. Albert G. Warfield reported having received $100 in compensation for his loss of Samuel's labor, who was part of the 39th regiment of the US Colored Troops.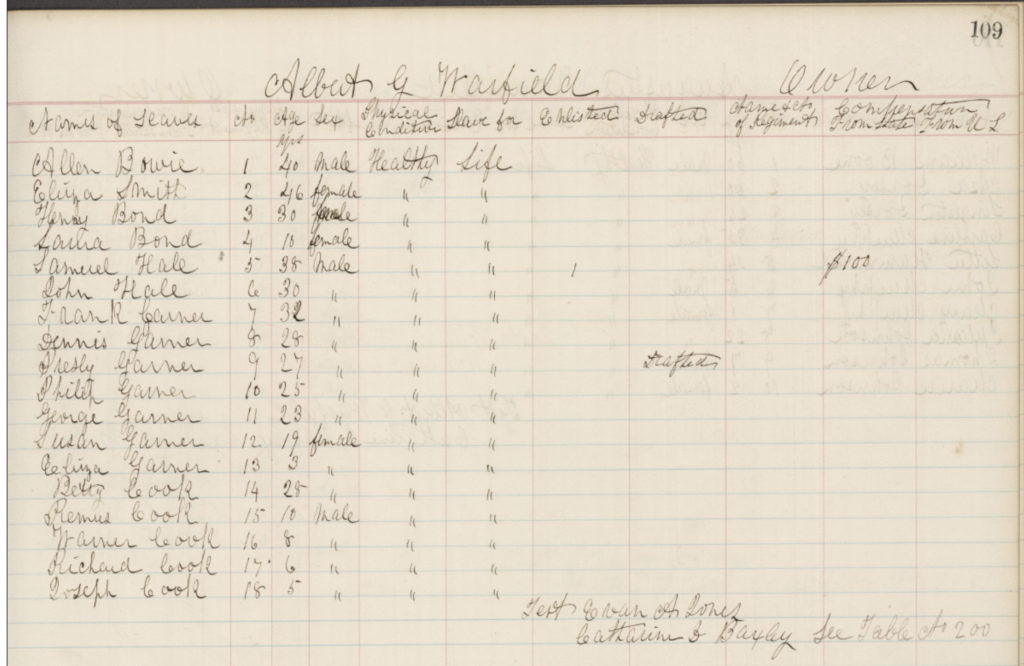 Albert's father had bequeathed "Allen" to him, as well as "Eliza" and others in 1846. I can see their names on the 1867 slave for life list. Samuel, who would have otherwise been enslaved for life by Albert G. Warfield, went into company E at the age of 39. Here is part of the record for Samuel's military service: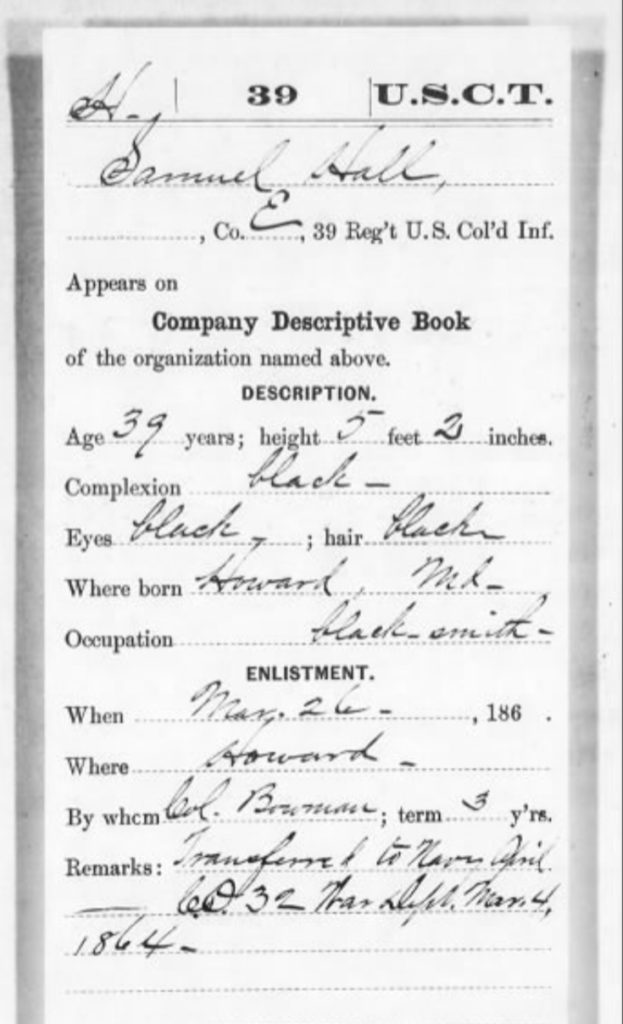 Perhaps the reader will think of and try to imagine these people if you opt to visit Oakdale and peer out one of the many windows overlooking the grounds that were once plantation fields with the ancestors of the people shown above working them. And FYI, you can think about Jesse also, who ran away from Joshua's daughter Everline. Everline was living in Montgomery County with her husband Elisha Riggs in 1846. Placing so much emphasis on buildings and museum objects, though they do tell stories, makes it so easy to disregard the history of the PEOPLE who lived throughout the county (building it and helping people to prosper with legacies we see at places like Oakdale). Governor Edwin Warfield wasn't born when his grandfather was formalizing arrangements for the future homes for those he was enslaving, but it's a good bet that from the year of his birth in 1848 and forward he was exposed to it. The picture of the Oakdale reunion that circulates shows many of the same people who Albert wanted compensation for:
Warner Cook
Remus Cook
Henny Bond
Laura Bond, Henny's daughter
Susan Garner
George Garner
And another person was Clagett Bowie who, at the age of six, was given to Joshua N. Warfield (a one year old child himself). Joshua was a few years older than Edwin.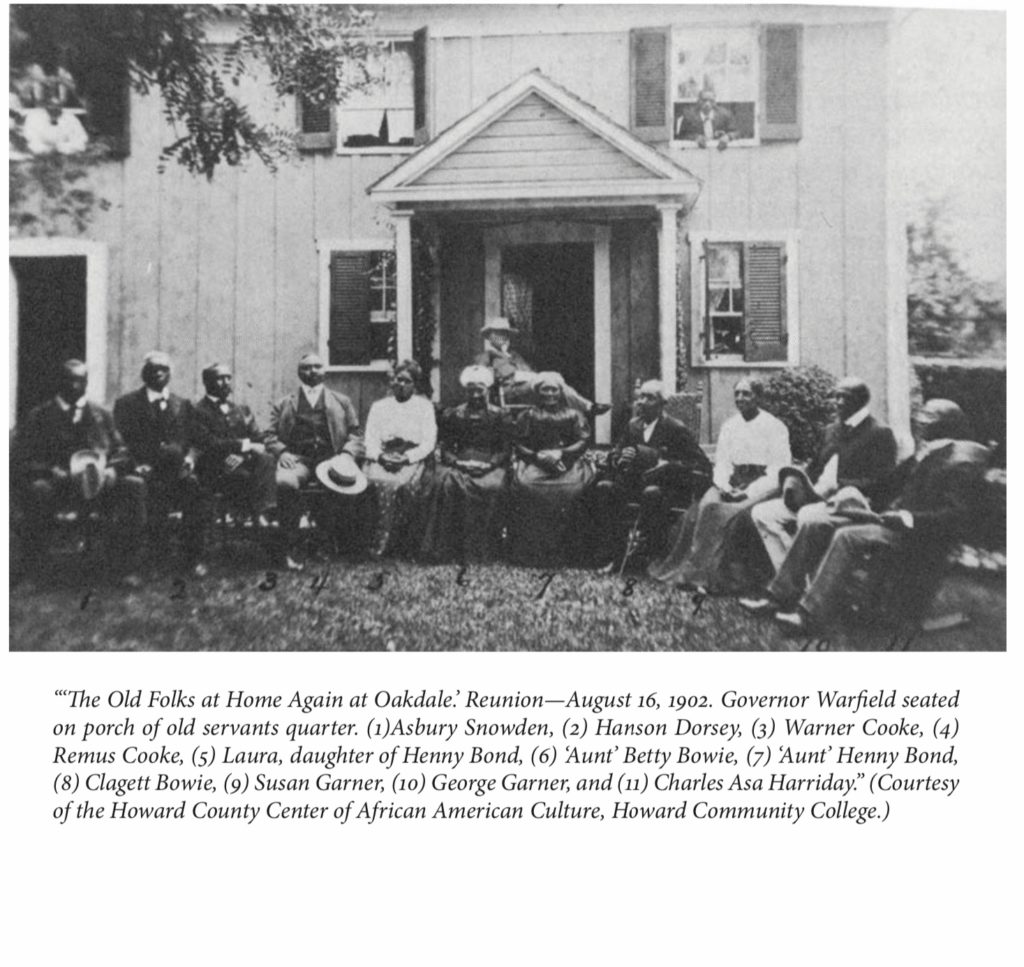 It looks like the show started with several elected officials in attendance lending their names to support. This photo shows the applicable building dates for all to see. I just wonder how many of them knew to ask about Samuel or any of the others I've mentioned, and if so, did they?
Marlena Jareaux
P.S. Today's blog post that sparked this is found below. And you now know why she made the suggestion that she did about a choice in donating…
*Added after the original post* This is from the inventory form completed about Joshua's nearby property: info about his enslaved, including Sam.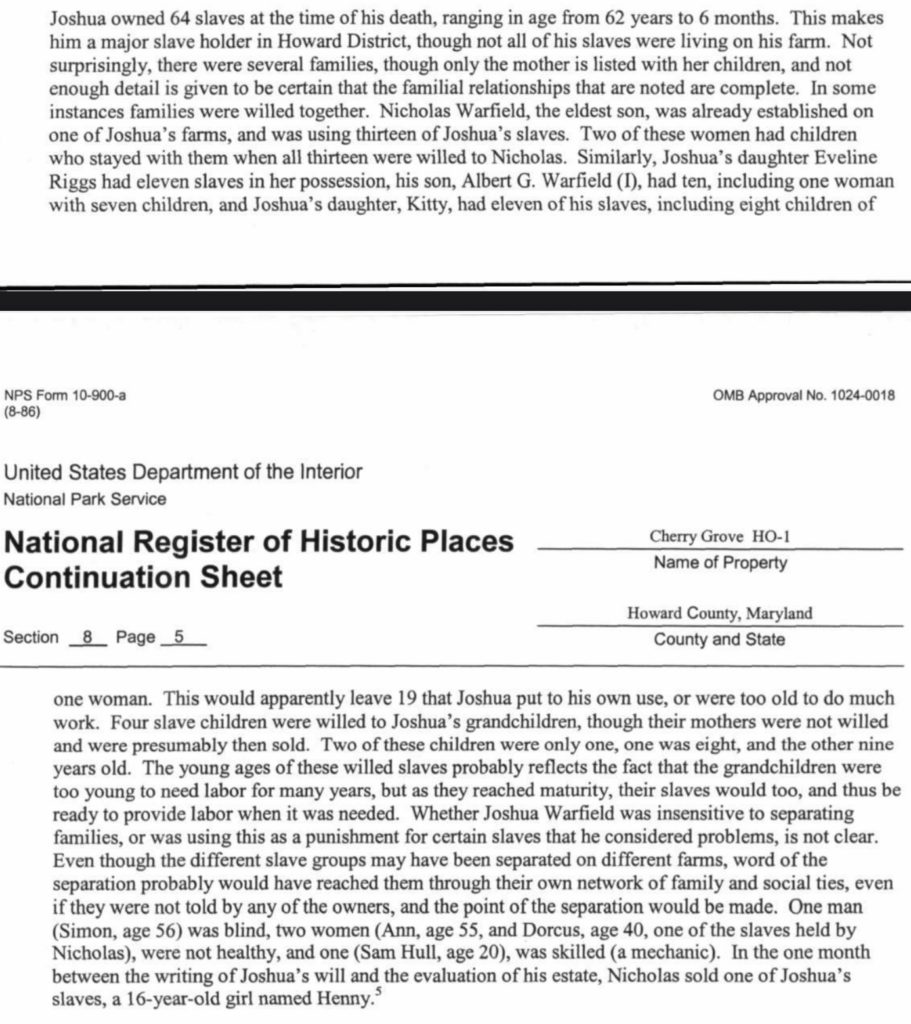 And here is Clagett Bowie… and Joshua's compensation attempt:

A picture of the interior of the Ed Warfield History Room. I get it… he is the focus. That's the choice.